NG Phaselis Bay LifeStyle Resort_Press Release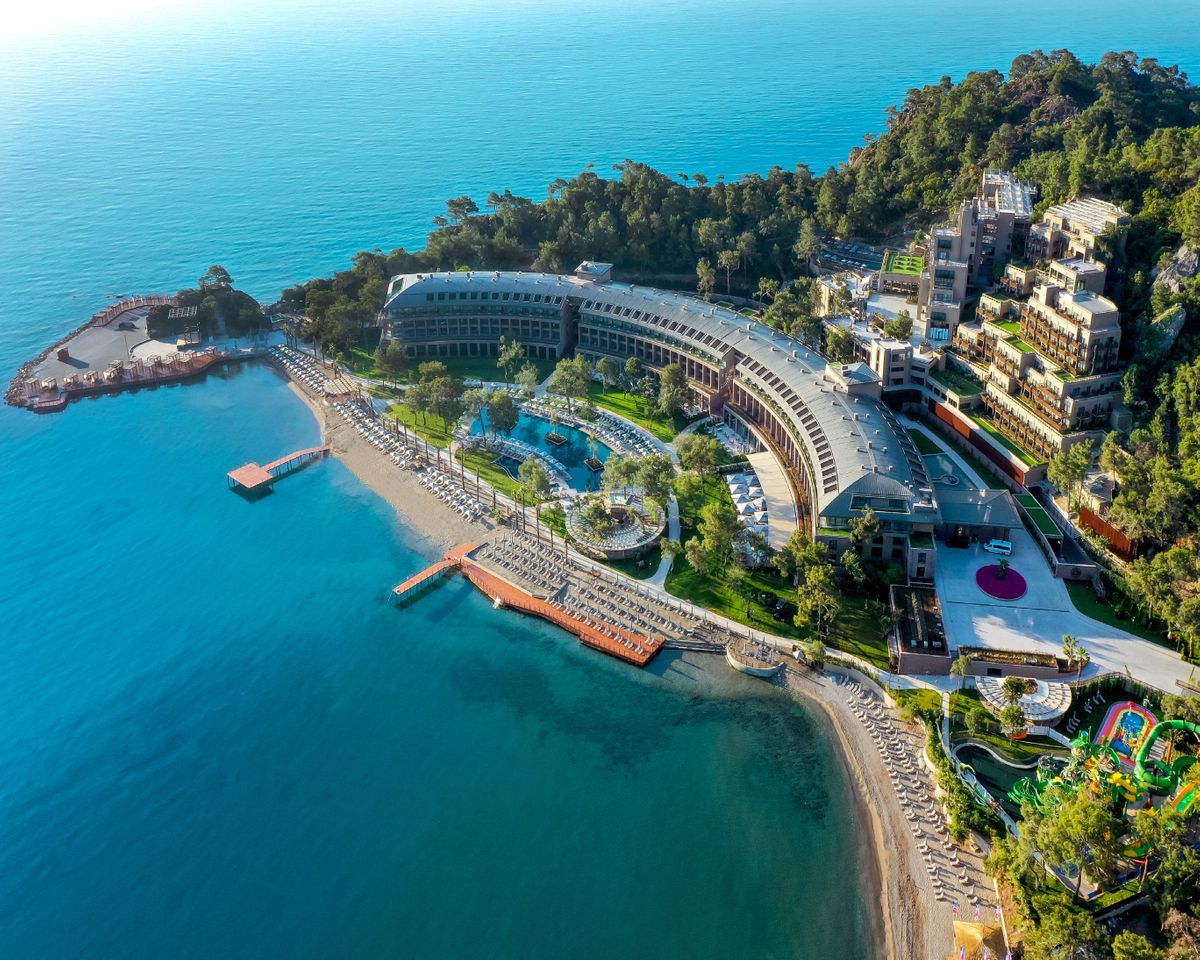 SEE–FEEL–LOVE
A holiday experience where every moment becomes a cherished memory.
NG Phaselis Bay Lifestyle Resort offers a unique holiday to its guests with its friendly and energetic team and its architecture reflecting the magnificent nature of Kemer. Its location in untouched greenery bordering dream-like coves and its impressive concept and unlimited personalized services are indispensable for modern travellers.
The NG Hotels chain has earned an important role in the accommodation sector. It has distinguished itself through unique services and privileges offered to guests since it first opened. Standing out with unique architecture, interior design, and a peaceful atmosphere, the brand offers its guests unforgettable moments with a high-standard, quality service approach.
NG Phaselis Bay's "Lifestyle Resort" concept is realized through the slogan "See, Feel, Love" which has proven indispensable for its guests. By offering privileges that will add value to family holidays a unique resort experience is introduced. At NG Phaselis Bay you can start every day with the smell of the sea and the clean forest air, with the perfect combination of warm air, fascinating bays, fine sands, and lush forest. You will feel more special every day with privileges that increase your quality of life without sacrificing healthy habits such as exercise, and nutritious eating.
Are you ready for a magical journey?
Providing high-quality service on the Mediterranean in a peaceful and natural atmosphere, NG Phaselis Bay offers its guests unique experiences with special accommodation alternatives, new-generation room designs, magnificent nature, and the dazzling blue of the sea. Offering a personalized holiday experience including private suites and villas, NG Phaselis Bay also holds attention with its nature-centric architecture. Knowledgeable and attentive service keeps the comfort of its guests at the highest priority while the magical world of NG Phaselis Bay surrounds you with unique experiences from the moment you arrive. While you luxuriate in one of the various room, suite, and villa options you are always surrounded by endless views of the Mediterranean.
Located in the most beautiful natural environment.
NG Phaselis Bay's unlimited service options provide one of the most comfortable destinations for its guests. You can immediately relax on one of the beautiful beaches of the hotel. Beluga Bay, where you can enjoy pleasant family moments, and Secret Bay, which provides a quieter more private atmosphere, are right outside when you need a rest.
Each meal is a culinary experience.
The delicious meals, and the high-quality service at Nautilius À-La-Carte Restaurant-which serves twenty-four hours a day-offers a holiday full of unique flavours with menus consisting of local and world cuisines curated by award-winning chefs. Imported and domestic beverage options and distinct surroundings await you in all bars, lounges, and restaurants at NG Phaselis Bay.
The savoury smell of sizzling steak whets your appetite at Chef's Steak Restaurant. Enjoy distinctive drinks, special-recipe meat dishes, and gourmet steak options. Moreover, you can enjoy your meal prepared by award-winning chefs accompanied by a perfect view.
Explore exquisite dishes of rich Turkish cuisine at Phrygia Turkish Restaurant, where Anatolian delicacies are reinterpreted by master chefs.
Enjoy Patisserie, where you will find many sweet confections with exquisite tastes from handmade chocolates to macarons rivalling those at Parisian patisseries, will add decadence to your tea and coffee breaks.
Every detail of NG Phaselis Bay is exactly as you have dreamed. Appetizers, sweets, beverages, cocktails, healthy snacks, and other taste experiences are available at all hours of the day for whenever you want a treat for your palate. Tasty bites that will add pleasure to swimming breaks are ready at the Beach Snack Restaurant!
BB Burger and Beer, one of the ambitious flavour offerings, activates all your senses with its specially-made burger service for gourmet burger lovers!
Pamper yourself at Aliva SPA.
At the 2019 World Luxury SPA Awards, NG Afyon Aliva SPA was awarded the "Luxury Thermal Resort SPA" award in the global category, and NG Sapanca Aliva SPA was awarded the "Luxury Healing SPA" award. NG Phaselis Bay provides the same award-winning services to its guests by their knowledgeable and skilled staff. In an area of 3,250 square meters, ALIVA SPA offers world-renowned massage and therapy techniques by an experienced team of professionals. In addition to spa suites, an indoor pool, Turkish bath, scrub room, sauna, steam bath, snow fountain, treatment rooms, massages, and skin and body treatments, more incredible experiences await you in the VIP area and at Aliva SPA Boutique Shop.
BELUGA Kids Club for our precious children.
NG Phaselis Bay prepares colourful surprises for its most valuable guests; the little ones. With countless entertaining and educational activities carried out under the supervision of expert teams, children can have a holiday that they won't forget and will want to return to again and again.
The children's club carefully considers every detail so that families can enjoy their holiday to the fullest. Babysitting is available, until midnight, for children one to three years of age with the "Happy Babies" service. While the little ones have a great time with trained childcare professionals, the rest of the family can enjoy their free time.
The Aquapark area, which offers unlimited entertainment for little guests, and the mini club, where experienced trainers are always on staff, allow the children to enjoy their own holidays to the fullest. There is a special children's welcome reception area along with play and activity rooms, baby play spaces, children's corners in restaurants, special activities, and many more surprises ensuring the little ones feel included on your wonderful holiday!
Every moment of your holiday is special and privileged.
NG Phaselis Bay offers many amenities such as the honeymoon concept, cabana concepts, and the NGuide team. All of which provide personal holiday experiences that are full of surprises to make guests feel special.
With professional guest services, you will feel catered to from the first moment you step into the hotel. Starting at check-in NGuide provides unforgettable hospitality experiences for you to ensure your daily comfort and to have an inviting stay.
NG Phaselis Bay turns your honeymoon into a fairy-tale with romantic services such as, special decorations, a cut-flower service, scented candles and incense, bed decorations, in-room breakfast service, fruit baskets, chocolate and sparkling wine in your room, suite or villa. After you venture out from your room, expect special decorations in the pavilion, a wine and cheese plate, a romantic dinner in the à la carte restaurant of your choice, and a specially designed cake to be brought to your table. NG Phaselis Bay's guest service professionals will call you prior to arrival to confirm your special requests and those offered in the honeymoon package ensuring your happiness is crowned with meticulous service.
Making the Mediterranean nights even brighter are magnificent stage shows in the fresh air and unique nature. Immerse yourself in the colourful world of NG Phaselis Bay's entertainment offerings. New life is breathed into festivities at this unique destination which hosts world-class concerts and performances. Internationally famous DJs, breath-taking acrobats, adrenaline-loving athletes, and award-winning dancers-caught up in the magical rhythm of music-bring over the top fun with their unique performances.
Designed with guest comfort in mind, the NG Lounge provides a relaxing and enjoyable space to wait for your room-if you have arrived early-or wait for your transfer on your departure day. With special treats and accoutrements you will find that even relaxing in the NG Lounge becomes a privilege that turns otherwise mundane moments into beautiful memories. NG Phaselis Bay, the perfect combination of fragrant air, enchanting bays, fine sand, and lush forest.[LP1]
Offering personalized service in spacious living areas.
NG Phaselis Bay broadens your comfort zone as it breathes new life into the concept of personalized holidays. NG Phaselis Bay has considered every detail and so offers private suite options to guests who want a more spacious living area; a personalized world with unique rooms and luxury suite services surrounded by stunning views of the Mediterranean. NG King Villas, which are preferred for large families, close friends, and special groups, are surrounded by the magnificent nature of Kemer. NG King Villas are stylishly designed and include a private pool, they have all the facilities you could need and even more. Luxury services such as VIP airport-hotel transfers, butler service, a private villa restaurant, room service, and a private cabana are sure to make your holiday special. The privileges offered to villa guests are endless, contact a guest service representative with any special requests you may have.
Exclusive travel experiences that ensure your comfort.
NG Phaselis Bay provides a comfortable and privileged travel experience with special services offered even after your stay. On return flights from Antalya International Terminals, with the Meet & Assist (Fast Track) service, you will be greeted by an attendant to assist you with special boarding procedures and security checks without waiting in line. In the special VIP Lounge, refreshments, various hot and cold drinks, and television are available. You can also access services such as internet, daily newspapers and magazines, and a flight information monitor. NG Phaselis Bay offers VIP Lounge service at Antalya Airport Domestic Terminal to its guests on outbound flights.
NG Phaselis Bay welcomes guests staying in NG King Villas to the special VIP Terminal at Antalya Airport for both arriving and returning flights.