15 Sep 2023
Xperience Pakistan launches first national digital radio campaign to promote tourism to Pakistan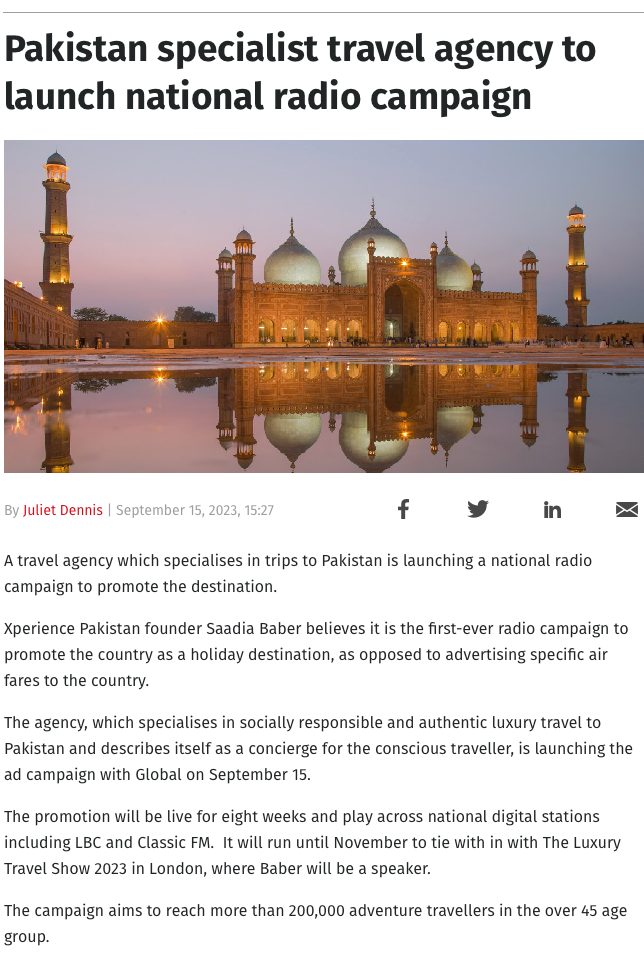 Xperience Pakistan, a travel concierge specialising in curating socially responsible bespoke and small group adventures in Pakistan for conscious travellers seeking authentic adventures and guided experiences launched the first ever radio campaign on 15th September to promote tourism to Pakistan - created by the creative team at Global, the UK and Europe's largest Radio & Outdoor company, and home to the UK's best-loved radio stations. https://global.com/
The radio campaign will be aired for 8 weeks from 11th September until November to tie in with the Luxury Travel Show, which I hope will help drive customers to my stand at the show and to put Pakistan on peoples radar.
The radio campaign aims to reach 200k 45+ adventure travellers of AB background, playing across national digital stations including LBC & Classic FM (which my target audience listen to via Alexa, mobile phones and laptops).
The focus of the campaign is to introduce the off-the-beaten-track elements of Pakistan which are often overlooked, showing people Pakistan through my eyes.
Xperience Pakistan has won the Prestige Awards "Adventure Travel Company of the Year for 2022 & 2023" in recognition for the authentic & socially responsible tours which I develop in close collaboration with the local experts on the ground in Pakistan. For 2023, I have also won an SME Business Award for "Best Pakistan Travel Experience Provider"
I set up Xperience Pakistan in 2018 as a bid to show Pakistan through my eyes, showcasing the beautiful landscapes, the rich culture, the opulent fashion & the hospitality & warmth of the Pakistani people.
Every tour or bespoke trip that I organise gives back in multiple ways to the local Pakistan economy, and supports local communities. For examples my clients can experience cooking workshops hosted by Pakistani female home chefs in their own homes, enabling them to earn a livelihood and giving my clients an authentic experience. I donate £25 for every trip booked to building wells and funding solar panels to help those communities impacted by the devastating floods in Pakistan in 2022.
As well as giving back away and it is equally important to me to give back at home in the UK, which is why I also help local grass roots projects in the UK such as sponsoring the local Womens & girls cricket team in Chalfont St Peters.