2025 SUMMER COLLECTION - NOW ON SALE!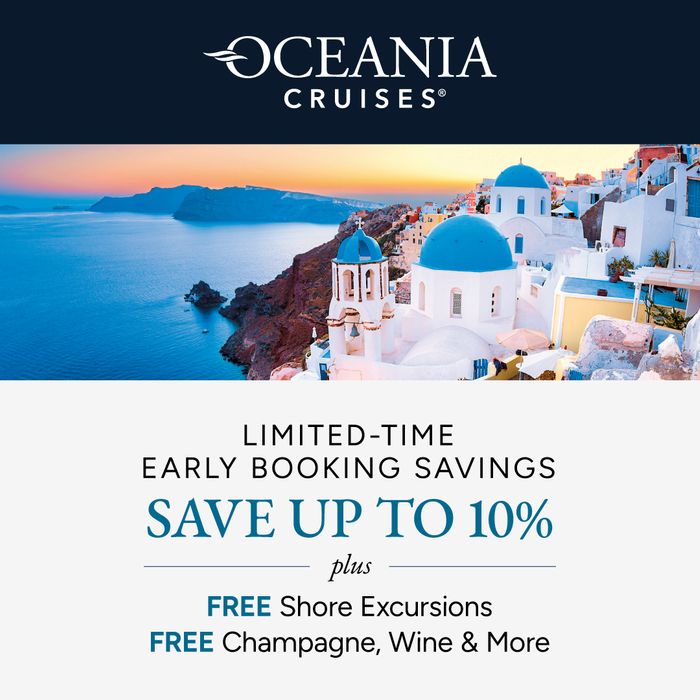 The new itineraries feature; more than 100 new voyages I 12 New Ports I 320 Total Ports
2025 Collection Highlights
* An Oceania Cruises first with the 1,250-guest Riviera in Alaska, offering more than a dozen explorations of the Last Frontier, ranging from 7-12 days, and opening the season with sailings from Whittier.
* More Iceland- and Greenland-intensive voyages than ever before
* Expansive offering of enchanting Mediterranean voyages – from Spain, France and Italy to Greece, Israel and the Holy Land
* Enticing breath of culture-rich Northern Europe voyages throughout the Baltic and Scandinavia
* Alluring selection of French Polynesia- and Hawaii-focused itineraries, ranging from 10 to 18 days
* Popular series of Autumn foliage sailings to French Canadian gems along the St. Lawrence River and historical East Coast harbours along with a trio of Bermuda getaways
* All voyages include simplyMORE plus take advantage of our exclusive Early Booking Savings of up to 10% when booked by 31 December 2023.
https://www.oceaniacruises.com/special-offers/2025-voyage-collection