25 Aug 2023
9 Days All Inclusive Tanzania Luxury Wildlife Safari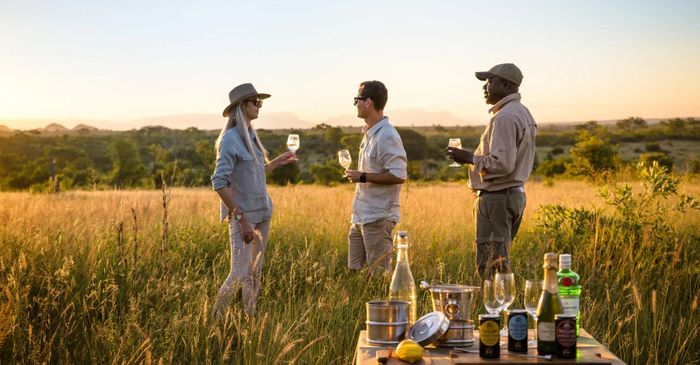 Day 1: Arrive at Kilimanjaro International Airport
Upon your arrival at Kilimanjaro Airport in Tanzania, you will be greeted and transferred to the charming suburb of Arusha, where you can unwind for the remainder of the day at the renowned Arusha Coffee Lodge in anticipation of your upcoming safari adventure.
Nestled among the rolling foothills of Mount Meru, the Arusha Coffee Lodge boasts 30 well-appointed guest houses scattered amid lush coffee fields and meticulously maintained gardens. Spanning over 100 acres, the lodge provides an array of amenities, including comfortable accommodations, a sparkling swimming pool, a coffee bar, a spa, a gift shop, and a restaurant.
In addition to these offerings, the lodge's retail area features the exceptional "Shanga" craft operation--the name meaning "beads" in Swahili--which provides support for up to 50 disabled artisans who create stunning glass products for sale adjacent to the shop. Keep an eye out for their extraordinary pieces throughout your journey.
Day 2 - 3: Fly to Tarangire National Park
After breakfast you will be taken to the Arusha airstrip which is located 10 minutes from the lodge, today you will fly to Tarangire National Park only 20 minutes away, upon arrival our driver guide will be waiting for you to proceed with the game drive. Tarangire National Park boasts an impressive wildlife population, rivaling even the renowned Serengeti ecosystem.
Spanning approximately 1,100 square miles and named after the river that runs through it, the park is nestled southwest of Arusha. Regrettably, it is often overlooked by tourists in favor of the more famed Tanzanian National Parks. As the dry season descends upon the land, the river becomes a beacon of hope for countless creatures.
This is a place unlike any other, where towering baobab trees mingle with dense bushes and endless grass. The landscape shifts and undulates, creating a stunning vista that is both exhilarating and awe-inspiring.
Massive herds of elephants roam the land, numbering up to 300 strong. And they're not alone! Wildebeest, zebra, buffalo, impala, and eland can also be found in great abundance, each one fighting for survival in this unforgiving wilderness.
You will spend the two nights here, there are plenty of activities to engage in, such as bush dinners, walking safaris, and sundowners you can also opt for a bush massage at an extra cost.
You'll stay at Nimali Tarangire Camp
Nestled within a secluded private concession, ensconced amidst an enchanting riverbed and nestled amidst a grove of magnificent acacia and baobab trees, lies a sanctuary of unrivaled exclusivity. With thousands of acres of captivating wildlife and verdant flora at your fingertips, the epitome of luxury is unveiled. We firmly believe that privacy is the ultimate indulgence.
A breathtaking fusion of natural materials and cutting-edge decor has been blended to provide our discerning guests with an unforgettable experience. Our intimate guest areas boast a generously sized, open-fronted lounge and library that houses a treasure trove of safari books.
The dining area offers a traditional boma alongside a private plunge pool that overlooks a mesmerizing waterhole, frequented by a profusion of wildlife who come to quench their thirst.
Day 4 – 6: Fly to Serengeti National Park
Today after breakfast you will fly to Serengeti to spend the next three nights. Embark on a journey to discover the remarkable beauty of the Serengeti entails focusing your sights on the awe-inspiring Great Migration. Whatever your preferred time of year, we'll ensure your chosen accommodation befits your needs, leaving you free to explore this captivating wilderness with utter ease.
As the peak season unfolds from July to October, the northern Serengeti promises an experience unlike any other, where you'll say farewell to your private guide at Kuro Airstrip and board a flight north. Keep your eyes peeled for the mesmerizing shapes and shadows of big cats, majestic elephants, towering giraffes, as well as massive herds of zebra and wildebeest roaming the expansive landscape of the Serengeti.
Upon arrival at the Kogatende Airstrip, your adventure to Nimali Mara Serengeti - your luxury and stunning camp for the next three nights will begin.
Day 7: Fly to Manyara Airstrip
After breakfast fly out to Manyara airstrip, where our lovely safari guides will pick you up and transfer you to the hotel. Today you will be staying at Manyara Serena Safari Lodge.
About the Serena Manyara Safari Lodge
Located on the prestigious north tip of Lake Manyara National Park, this lodge offers unparalleled access not only to the park but also to the magnificent Ngorongoro Crater and Karatu. With its proximity to Manyara airport, this is the perfect retreat for the discerning traveler seeking spectacular views of the Great Rift Valley.
Boasting an exquisite charm reminiscent of the first Manyara safari days, the main area of the lodge exudes a vintage elegance that transports you back to a bygone era. Despite its undeniable antiquity, the design remains impeccable and not in the least bit worn.
You'll find yourself enamored by the majestic bar area offering a breathtaking vista, while on the opposite end lies a vast infinity pool that cascades over the Great Rift Valley and into the park.
The spacious restaurant offers an inviting ambiance with its open-plan layout that leads to a lavish indoor bar and a dazzling reception area decked with cozy tables and sumptuous cushioned chairs. Enjoy a luxurious stay at this marvelous lodge that artfully blends history with contemporary flair.
Day 8: Day trip to Ngorongoro Crater
Get ready for an epic full-day adventure at the Ngorongoro Crater with your very own private guide! With Serena Manyara Safari Lodge located just a short 1.30-hour drive away from the Soneto Descent Road, you'll be one of the first vehicles to hit the crater floor in the morning and bask in the golden light.
Setting foot on the majestic Ngorongoro Crater, a UNESCO World Heritage site and a world-famous wildlife sanctuary, is a breathtaking adventure that will leave you in awe. This ancient caldera was formed millions of years ago when it exploded and collapsed in on itself, creating a gigantic bowl-shaped terrain that spans over 100 square miles.
The best part? Wildlife spotting in the Ngorongoro Crater is no adventure for the faint-hearted. With a little bit of patience and luck, you can spot a myriad of majestic creatures that call this place home.
Get your cameras ready for what will undoubtedly be an unforgettable day trekking across the savannah and coming face-to-face with some of the most incredible wildlife in the world. Later you will return to Manyara Serena Hotel for your night stay.
Day 9: Fly to Kilimanjaro International Airport
As your thrilling safari trip in northern Tanzania draws to a close, we are excited to whisk you away to the airstrip for your flight back to Kilimanjaro. We'll make sure you arrive in time to catch your international flights and return home with unforgettable memories of your epic African adventure.