Top 5 beaches in Cambodia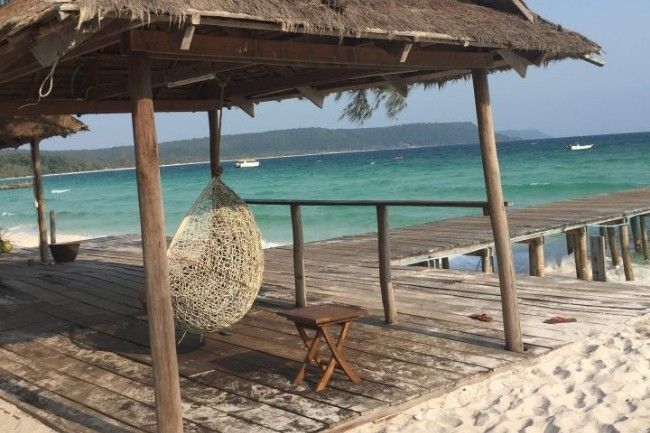 For many, Thailand, the Caribbean or the Maldives are the places that immediately spring to mind when you think of stretches of pure white sand, crystal clear water and deserted islands. But it's time to expand your horizons. Cambodia has some truly hidden gem. Imagine Robinson Crusoe, but with Instagram-worthy places to stay at a fraction of the cost – that's what you get in the Kingdom of Wonder!
Here's our pick of our favourite beaches in Cambodia, starting with #5.
#5. Koh Trong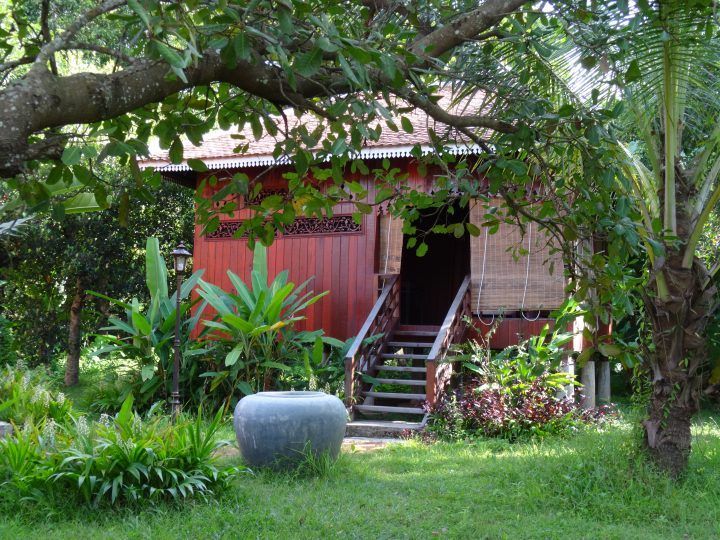 Undoubtedly one of the prettiest places in Cambodia. Although not technically on the coast, Koh Trong is a beautiful, quiet and very, very rural sandbar in Northern Cambodia on the mighty Mekong River. For 8 months of the year it is surrounded by white sandy beaches before the green season sets in.
Take a horse and cart ride or cycle around the small island, meeting local villagers along the way. Get a chance see the endangered fresh water Irrawaddy Dolphins, meander through the picture-perfect villages or kick back and enjoy the pristine beach and tropical island.
#4. Otres 2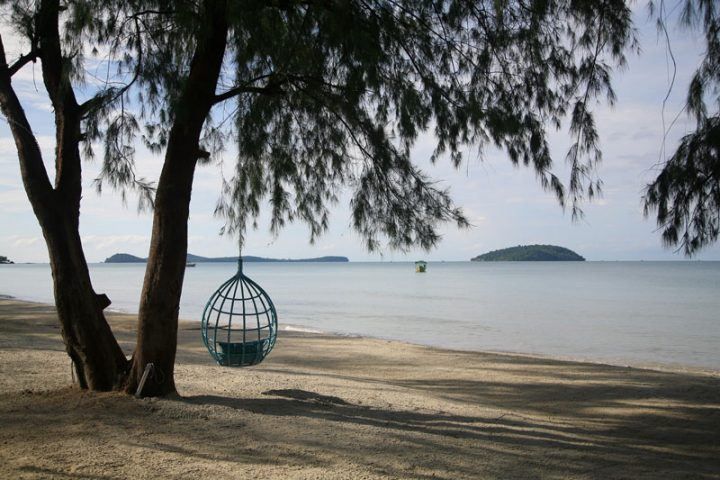 Sihanoukville has developed a bit of a reputation as a busy, backpacker-saturated party town. Whilst this may well be the case around the Serendipity and Ochheauteal beaches in the heart of town, it couldn't be further from the truth at Otres 2.
Sihanoukville is comprised of seven beaches in total. At the most southernly end, Otres 2 is by far the most idyllic and peaceful. Situated on the Gulf of Thailand, the seas are calm and clear with pristine white sands. There are a few boutique places to stay and a range of small shacks and local restaurants to eat at; all in all, a very relaxing place to end a trip to Cambodia.
#3. Koh Rong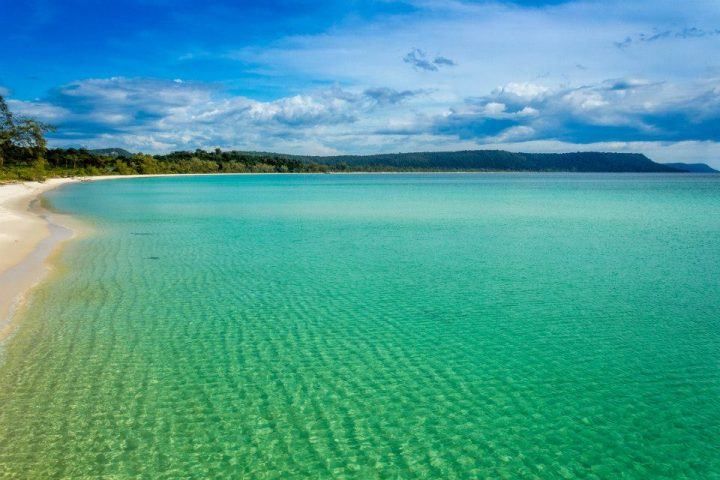 Koh Rong's beaches look similar to the ones in Thailand… but without the crowds. Home to the newly opened deluxe Royal Sands resort and boasting some of the most amazing and untouched beaches in Southeast Asia, this is a place you'll never want to leave.
It's a 40-minute boat ride from the mainland, and as you approach the island all you can see is greenery and a few guesthouses dotted along the beaches.
Long Beach (also known as Sok San Beach) is the most spectacular of them all. For those lucky enough to stay at Sok San Beach Resort, you will arrive via private boat and spend the entirety of your stay soaking up breathtaking views. Nearby there are coral reefs perfect for snorkelling or diving, and the whole area is surrounded by dense rainforest.
#2. Song Saa Private Island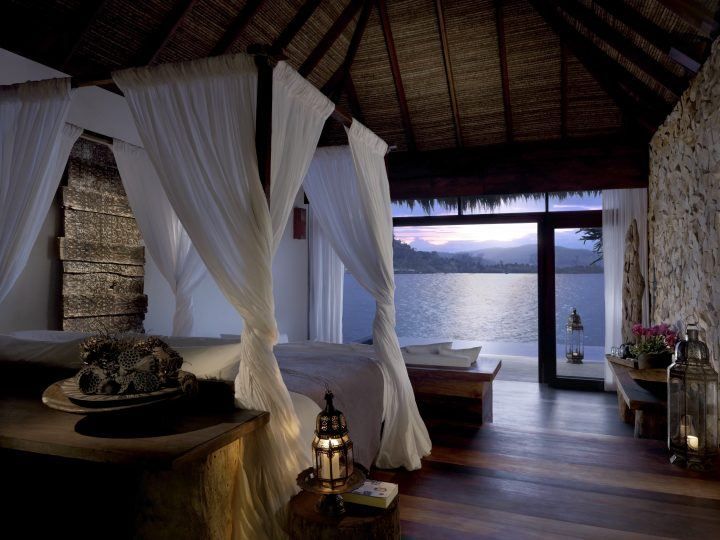 The most luxurious, unique and incredible place to experience in Cambodia. Song Saa (meaning 'sweethearts' in Khmer) consists of two small private islands off the coast of Sihanoukville that are linked with a footbridge – hence 'sweetheart' islands. This is a true honeymooners paradise.
One of the islands has been left as a nature reserve, with the other designated as a private luxury resort with 26 villas, all with individual pools. The beach here is small, but perfectly formed. The waters around the islands have been designated as a protected marine area with coral reefs, providing an abundance of sea life to dive or snorkel around.
#1. Koh Rong Samloem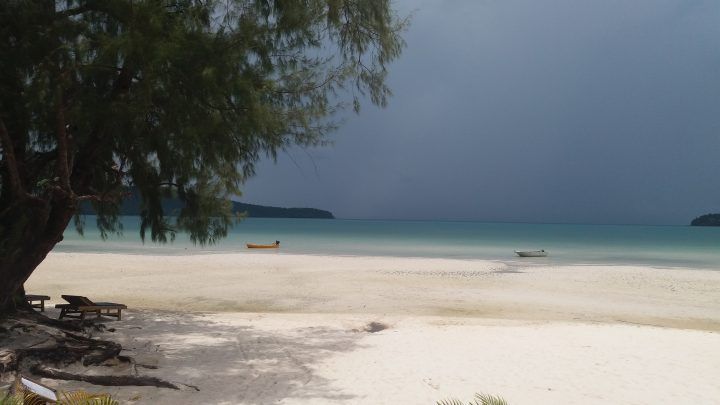 Coming in at number one is undoubtedly one of the most untouched paradises that you will ever experience – Koh Rong Samloem.
Picture swaying coconut trees, hammocks, fine white sand beaches, clear turquoise waters… you are half way there. It's a small island with just two main sides. Lazy Beach is the livelier side, but Saracen Bay on the other is the complete opposite. Being a large bay, the water is entirely still, and with only a handful of small guesthouses and boutique properties it is, in our opinion, THE most idyllic and peaceful place in Southeast Asia. If you need a bit or R&R after your cultural journey through Cambodia this certainly ticks every box and more.
Flip flops and snorkel at the ready?